The B.A.T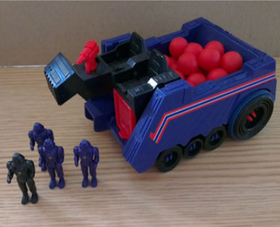 Production
Ref.No
89003
Release Date
1988
Distributor(s)
Bluebird Toys
Video
The B.A.T is a ground vehicle, originally designed to attack the Battle Fortress. This vehicle is under the command of Major Leon Vex and the Viper Squad.
Manufactures descriptionEdit
This Ballistic Armored Tank ammo carrier has automatic repeat firing cannon, collapsing firing deck and special immobilising feature.
Below are the features of the B.A.T.
An automatic repeat firing cannon
A collapsible firing deck
Contents of original packagingEdit
Below are the contents found in the original packaging.
1 B.A.T
20 Cannon Balls
1 Major Vex
6 Viper Squad troopers
Foreign distributionEdit
The B.A.T was distributed throughout Europe, via FASSI and Habourdin International.
Television advertisementEdit
In the mid to late 1980s, Bluebird Toys broadcasted an advert on television channels throughout Europe, which promoted the B.A.T.