Stenchoids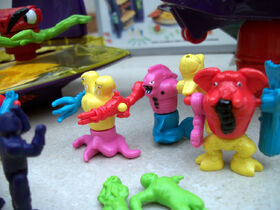 Production
Release Date
1990
Distributor(s)
Bluebird Toys
Video
Commanded by the evil Stinkhorn, the Stenchoids are able spit stench from their bodies to decompose their victims.
Below are the features of the Stenchoids.
moveable and interchangeable arms and bases
Spit Stench from their bodies to decomposed their victims
Content of original packagingEdit
When sold separately, below are the contents found in the original packaging.
1 Stenchoid
1 Manta Man
1 Decomposed Manta Man
1 Stench Egg with approximately 9 grams of stench
The Stenchoid contained within each packaging varied between 3 options.
Foreign distributionEdit
Stenchoids was distributed throughout Europe, via FASSI and Habourdin International.