Red Venom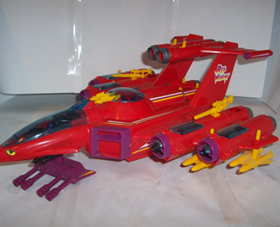 Production
Ref.No
88090
Distributor(s)
Bluebird Toys
Video
Manufactures descriptionEdit
Major Leon Vex and his deadly Viper Squad have their own incredible looking ship which has a host of hidden surprises - battle pods, hydro sleds and the Trojan for the part of a nine strong independent fighting machine with 21 troops.
Contents of original packagingEdit
Below are the contents found in the original packaging.
1 Red Venom
1 Trojan Troop Carrier
1 Hoverfly
1 Aquapod
1 Molepod
1 Skipod
1 Sled
1 Skypod
4 Rockets
4 Drop Bombs
1 Major Vex
14 Viper Men
1 Commander Bill Quest
1 Captain Buck Finn
1 Commander Nigel Hunt
1 Manta Hawk
1 Manta Shark
1 Manta Wolf
Foreign distributionEdit
The Red Venom was distributed throughout Europe, via FASSI and Habourdin International.
Television advertisementEdit
In the mid to late 1980s, Bluebird Toys broadcasted an advert on television channels throughout Europe, which promoted the Red Venom.