M.A.N.T.A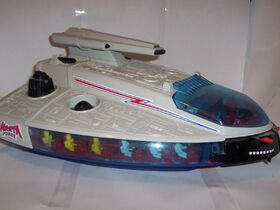 Production
Ref.No
89001
Release Date
1988
Distributor(s)
Bluebird Toys
Video
Manufactures description

[

]
The Manta Ship is two large vehicles in one, open it up and revealed are a further 10 vehicles and 20 crew members. All vehicles have moving parts, rockets that can fire and crew members who can be positioned for all types of action.
Features

[

]
Two-in-one spaceship
Ten specialised fighting vehicles for sea, land and air
20 crack troops
Contents of original packaging

[

]
Below are the contents found in the original packaging.
1 M.A.N.T.A Ship
Blue Lightning
Skeeter
Manjet
Hydro Blaster
S.A.M
Aquattack
Strike Bike
Strike Bike
Gundog
Manta Battle Copter
4 Black Rockets
1 Commander Bill Quest
1 Captain Buck Finn
1 Commander Nigel Hunt
5 Manta Hawks
5 Manta Sharks
5 Manta Wolves
Slogan

[

]
"Earth is running low on resources. Step forward Commander Bill Quest as he takes control of the space ship - The Great Manta - and his search throughout the galaxy for the twin Earth. A new home for mankind."
Gallery

[

]
Television advertisements

[

]
In the mid to late 1980s, Bluebird Toys broadcasted an advert on television channels throughout Europe, which promoted the M.A.N.T.A.