Eagle Comics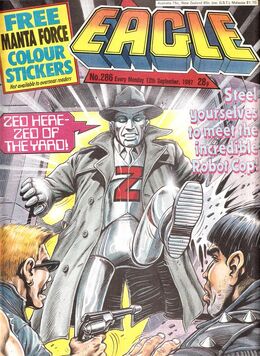 Eagle Comics # 286 contains their second comic strip based on the Manta Force toy line.
Chapter Title: Attack Attack!
In control of the Battle Copter, Major Leon Vex and his Viper Squad escape the M.A.N.T.A. Wasting no time, the Battle Copter immediately attacks the Manta Wolves, which have been exploring the newly discovered planet. The Rocket Rammer attempts to defend the Manta Wolves, but the Battle Copter is too fast. Coming around for a second attack, Major Vex orders his crew to attack the Gundog, which is being driven by Commander Nigel Hunt. As Commander Hunt looks doomed, Commander Bill Quest unexpectedly appears in his Blue Lightning. Not wanting to destroy their aircraft, Commander Quest uses his secondary laser cannons and forces Major Vex to land. While flying over the Battle Copter, Commander Quest is informed that Major Vex and his men have disappeared. Suddenly, Commander Quest notices that the mysteries humanoid figure has re-appeared. At the moment, the Blue Lightening looses power and crashes into a swamp.
To be continued in the next issue...
Free giftEdit
Two Manta Force stickers were included within this issue.
Notes of interestEdit
Major Leon Vex was sentenced to life imprisonment on the Moon.
Battle Copter is heavily protected by armour.
Comic panelsEdit