Black Viper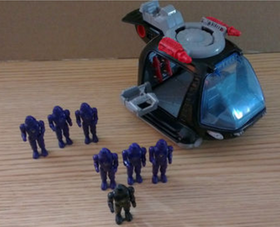 Production
Ref.No
88093
Release Date
1988
Distributor(s)
Bluebird Toys
Video
Black Viper is an aircraft vehicle, originally designed to attack the Battle Fortress. This vehicle is under the command of Major Leon Vex and the Viper Squad.
Manufactures descriptionEdit
The helicopter troop carrier has an opening cockpit window and retractable gun position. An opening rear door reveals a rocket store for the on board launcher.
Below are the features of the Black Viper.
Holds up to 8 Viper Squad troopers
A canopy that opens
2 rocket runs with working firing mechanism
Contents in original packagingEdit
Below are the contents found in the original packaging.
1 Black Viper
4 shells
1 Major Vex
6 Viper Squad troopers
Notes of interestEdit
The Black Viper was not sold individually, but as apart of the Black Vipers vehicle pack.
A yellow version called Battle Copter was previously released by Bluebird Toys in 1987.
Foreign distributionEdit
The Black Viper was distributed throughout Europe, via FASSI and Habourdin International.
Television advertisementsEdit
In the mid to late 1980s, Bluebird Toys broadcasted an advert on television channels throughout Europe, which promoted the Black Viper.