Battle Fortress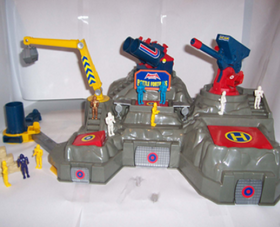 Production
Ref.No
89001
Release Date
1988
Distributor(s)
Bluebird Toys
Video
Manta Forces fortified Battle Station with three firing missile launchers, three exploding platforms and Major Vex's lethal disc thrower.
Manufactures descriptionEdit
The battle Fortress has three firing missile launchers and three exploding platforms. A multi-position grab assists with the loading of ammunition. The large underground vehicle park and storage area is protected by a high security door. The set also includes a lethal disc thrower and twenty troopers.
Zip Gun
Double-barrel gun
3 exploding platforms
Major Vex's lethal disc thrower
Undergrund storage
Contents in original packagingEdit
1 Battle Fortress
1 Cyclops (mounted)
1 Zipgun (mounted)
1 Scythe (mounted)
1 Major Vex's Disc Thrower
10 Ammo-discs
8 Canon Balls
20 Pellets
6 Blast Walls
1 Ladder
1 Long Walkway
1 Short Walkway
6 Manta Wolves
6 Manta Sharks
6 Vipor Troopers
1 Commander Bill Quest
1 Captain Buck Finn
1 Commander Nigel Hunt
"Can Commander Quest protect his vital communications centre and supply depot from the Viper Squads onslaught?"
Television advertisementsEdit
In the mid to late 1980s, Bluebird Toys broadcasted an advert on television channels throughout Europe, which promoted the Battle Fortress.