Battle Buzzard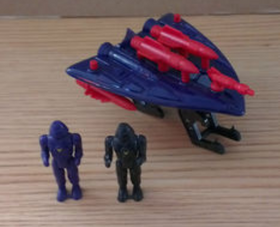 Production
Ref.No
89012
Release Date
1988
Distributor(s)
Bluebird Toys
Video
Battle Buzzard is an aircraft vehicle, originally designed to attack the Battle Fortress. This vehicle is under the command of Major Leon Vex and the Viper Squad.
Manufactures descriptionEdit
A two man hang glider with press action bombing mechanism. Swiveling cannon and two fixed rockets. Special carries Viper Commander and trooper.
Below are the features of the Battle Buzzard.
2 fixed rockets
A special harness for 2 viper men
2 press action drops bombs
1 rotating laser cannon (non-firing)
Contents of original packagingEdit
Below are the contents found in the original packaging.
1 Battle Buzzard
2 Drop Bombs
1 Major Vex
6 Viper Squad troopers
Foreign distributionEdit
Battle Buzzard was distributed throughout Europe, via FASSI and Habourdin International. On the packaging, FASSI also changed the description box colour from blue to red.  
Television advertisementEdit
In the mid to late 1980s, Bluebird Toys broadcasted an advert on television channels throughout Europe, which promoted the Battle Buzzard.